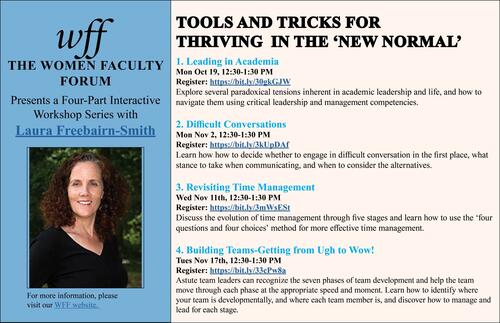 WFF is excited to launch a four-part, interactive workshop series with Laura Freebairn-Smith: "Tools and Tricks for Thriving in the 'New Normal.'" The series will guide faculty and staff in developing new strategies to effectively manage the added time pressures of doing it all—teaching, advising, serving on academic committees, and conducting research from home—during the "new normal" of the Covid-19 pandemic. 
Laura currently teaches leadership at Yale's Drama School, and diversity and team building in the Executive MBA program at Yale's School of Management. Prior to that, she served as Director of Yale's Organizational Development and Learning Center, which she helped create. Her work and career have three major foci: leading the creation of organizational cultures; teaching and research on organizational development topics; and consulting on organizational development issues with a special emphasis on strategic planning and organizational redesign. Laura's credentials include a BA from UC Berkeley (Philosophy and Political Science) and an MBA from the Yale School of Management. She holds a doctorate in Organizational Systems from Saybrook Institute and has published articles and chapters on organizational development topics.
1. Leading in Academia: Monday, October 19, 12:30-1:30 pm EST | Register here
Leading in academic organizations is complicated by several paradoxical tensions. For example, tenure is awarded to individuals, but for many academics tenure-winning output requires teamwork. Another paradoxical tension is the pull to continue research while leading. At Yale, since teaching is a required component of a faculty member's portfolio but is a less-valued part of the tenure decision, another tension is created. In this workshop, we will explore several paradoxical tensions inherent in academic leadership and life, and how to navigate them using critical leadership and management competencies.
2. Difficult Conversations: Monday, November 2, 12:30-1:30 pm EST  | Register here
In this workshop, we explore how to navigate difficult conversations – ranging from how to ask a colleague to carry their weight on a project to dealing with microaggressions and harassment. We will discuss how to decide whether to engage in the conversation in the first place, what stance to take when communicating, and when to consider the alternatives. As a result of the Difficult Conversations workshop, you will be able to recognize the following:
How to define the learning and judging stances of a conversation
How to identify intent and impact within a conversation
When it is worthwhile to confront an issue, and when it is not 
The many ways a confrontation can go wrong, how to maximize chances that it goes right, and how to course-correct when it doesn't
Three techniques to foster a learning conversation
3. Revisiting Time Management-A Few Simple Techniques to Add to Your Toolkit: Wednesday, November 11th, 12:30-1:30 pm EST  | Register here
In this workshop, we explore how to effectively manage your time to achieve your goals in the face of cultural pressures – the pressures to participate on committees, the pressures to produce a certain level of output, the pressures to sustain a certain type of personal success, and more. We will look at being in the present moment with an eye toward the future and identifying activities that merit the use of your time. We will discuss the evolution of time management through five stages, and how to use the 'four questions and four choices' method for even more effective time management. We will also review how to avoid 'time robbers.'
4. Building Teams-Getting from Ugh to Wow! Tuesday, November 17th, 12:30-1:30 pm EST  | Register here
As faculty, you work within or run many different types of teams and collaborative groups, such as collaborative research projects, doctoral student cohorts, committees with other faculty in your department, or laboratory teams. One of the most common complaints in all organizations at all levels is a team or group's struggle to work together. Teamwork is the ability to work as a group toward a common vision, even if that vision becomes extremely blurry. Does your team seem stuck, or is it brand new? Has it recently accomplished a big task and no longer has the same vim and vigor as before? Or has your team not quite gelled? Are they even aware they are a team? Teams go through predictable phases. Astute team leaders can recognize those phases and help the team move through each phase at the appropriate speed and moment. In this workshop, we explore the seven phases of team development and the methods you can use with teams in your current and future role as a leader. As a result of the workshop, you will:
Learn the seven phases of team development
Identify where your team is developmentally, and where each team member is as well
Discover how teams are organic, dynamic entities with predictable stages
Explore how you can manage and lead for each stage
To download the poster for the event, please click here.