Alvin Tran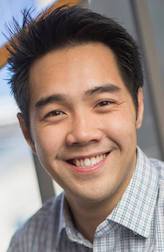 Alvin Tran
Alvin Tran, ScD, MPH, CHES is a postdoctoral associate at the Yale School of Medicine. His research focuses on the intersection of body image, disordered eating behaviors, and racial and sexual minority health. Dr. Tran is an advocate for the prevention of eating disorders and was the 2018 recipient of the SPARK Impact Award for Activism and Issue Advocacy by the City of Boston. At Yale, he is currently conducting research to inform the creation of learning games aimed at promoting healthy behaviors among youth in Connecticut.
Grant Title: "Experiences with Appearance-Based Discrimination Among Broadcast Journalists" 
Abstract: This mixed methods study aims to administer a cross-sectional, online survey to female broadcast news journalists (e.g., on-air reporters and anchors) working in the United States. The online survey will include open- and closed-ended questions to respectively assess the body image ideals and experiences with discrimination of these women.
Contact Us
The Yale Women Faculty Forum
205 Whitney Avenue, Suite 301B
New Haven, CT 06511
(203) 436-2978
wff@yale.edu