Annual Reception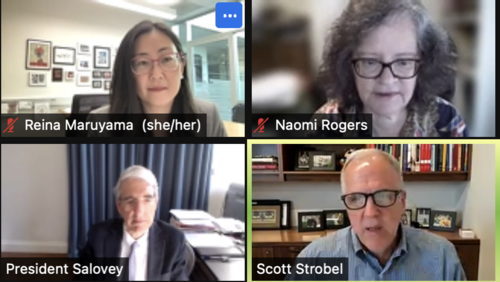 The Women Faculty Forum hosts an annual Fall Opening Reception. This year, we held a virtual event on September 21st to welcome new and returning faculty to an unprecedented year on campus. This year's annual reception to kick off the school year was held digitally on September 21st, 2021. With over 130 guests, faculty and staff from across the university gathered to renew our commitment to gender equity on campus. 
Guests were welcomed by WFF chair,
Prof. Reina Maruyama. President Salovey
and
Provost Strobel
gave remarks reflecting on the storied history of WFF.
Dean Kymberly Pinder
, who began her term as Dean of the School of Art in 2021,  joined as this year's reception speaker to reflect on the intersection of art and gender. 
The evening was rounded out with social breakout rooms during which participants were able to greet old teammates and meet new colleagues. 
Where to Find Us
The Yale Women Faculty Forum
205 Whitney Avenue, Suite 301B
New Haven, CT 06511
(203) 436-2978
wff@yale.edu
Subscribe to our Newsletter
Interested in receiving our newsletter?  Welcoming new colleagues to Yale?  Follow this link to join our mailing list.  You will need your NetID.