Mission of the Yale Women Faculty Forum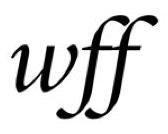 Advancing gender equity at Yale since 2001…                                      
WFF was established in 2001 by senior women faculty during Yale's Tercentennial year to highlight the presence of women at the University and the accomplishments of Yale alumnae. Since its inception, and with the support of the President and Provost of Yale, the WFF has evolved into an organization of women faculty who work together to:
Foster gender equity throughout the University through policy initiatives and research
Promote scholarship by women and on women and gender across all schools of the University
Create mentoring and networking opportunities
Where to Find Us
The Yale Women Faculty Forum
205 Whitney Avenue, Suite 301B
New Haven, CT 06511
(203) 436-2978
wff@yale.edu
Subscribe to our Newsletter
Interested in receiving our newsletter?  Welcoming new colleagues to Yale?  Follow this link to join our mailing list.  You will need your NetID.