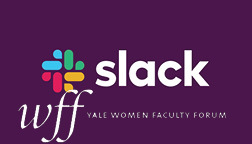 WFF is hosting a social site via Slack (yalewff.slack.com) for the Yale community to stay connected over the summer. The site is an informal gathering for Yale faculty from across all schools and departments to get together virtually and chat about topics of interest from childcare to #BlackInTheIvory and beyond. Faculty are invited to share events and resources, collaborate on ideas, or catch-up on anything from news and announcements to general updates at Yale. WFF's Slack site aims to build community among faculty and virtually recreate some of the communal activities we have on campus (like dining halls or faculty lounges) during social distancing.
WFF is committed to fostering gender equity at Yale through policy initiatives, research, and networking opportunities. Yale faculty of all genders and types of appointments are invited to participate. Discussions are not limited to gender; all topics are welcome. For those who are new to using Slack, this quick tutorial may be of help.
If you have any questions, please contact WFF's postgraduate associate Oana Capatina at wff@yale.edu.