Chairs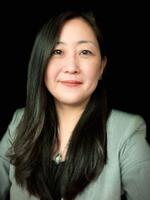 Chair: Reina Maruyama joined the faculty of Yale in 2013 as an experimental particle/atomic/nuclear physicist. She is exploring new physics in nuclear and particle astrophysics, in particular, in dark matter and neutrinos. She is an author of 200+ publications and has presented her work in numerous conferences and workshops. She is the recipient of several awards, including the Sloan Research Fellowship, NSF CAREER Award, Yale Public Voices Fellowship, and Woman Physicist of the Month from CSWP.
Incoming Chair: TBD
Past Chair:  Naomi Rogers has taught at Yale since the mid-1990s and is Professor of the History of Medicine in the Section of the History of Medicine at the Yale Medical School and in Yale University's Program in the History of Science and Medicine, with courtesy appointments in the History Department and the Women's, Gender and Sexuality Studies Program. Her historical interests include gender and health; disease and public health; disability; medicine and film; and alternative medicine/CAM. Her current book project examines critics of medical orthodoxy since 1945 (Health Activism and the Humanization of American Medicine; under contract with Oxford).
Where to Find Us
The Yale Women Faculty Forum
205 Whitney Avenue, Suite 301B
New Haven, CT 06511
(203) 436-2978
wff@yale.edu
Subscribe to our Newsletter
Interested in receiving our newsletter?  Welcoming new colleagues to Yale?  Follow this link to join our mailing list.  You will need your NetID.