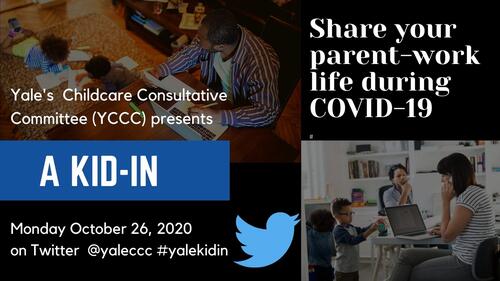 The Childcare Consultative Committee (CCC) is a coalition of existing Yale faculty and staff groups (including  Yale Women's Faculty Forum (WFF), the Yale FAS Senate, the Committee on the Status of Women in Medicine (SWIM), Working Women's Network (WWN), and Local 34) that is interested in promoting more support for working families at Yale. We recognize that life since the pandemic is hectic and stressful and we want all of our community to understand the type of issues that Yale parents and those tending to others in your household are experiencing during the pandemic. What does working at home look like for you? 
We would like to announce a kid-in (like a "sit-in" but on twitter) on Monday, October 26th. Maybe in your household *you're* the kid, taking care of an aging parent, or your kids are crawling over you as you try to do your work for Yale. The kid-in is for all of you! You can use your personal Twitter account to post an image or video of yourself during your pandemic work-life. Feel free to use these example tweets or create your own!  Be sure to tag @YaleCCC and use the #Yalekidin.
If you do not have a Twitter account but would like to participate on other forms of social media, please post your photos on WFF's Facebook page or submit them via email to wff@yale.edu. 
Thank you for participating! If you would like to be included in future events and information, please fill out this form: https://forms.gle/bxhmdagxohapJ6yA7