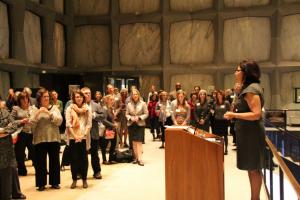 The Yale Women Faculty Forum hosted its 13th annual Fall Opening Reception the evening of September 24 at Yale's Beinecke Rare Book and Manuscript Library.  
The much-anticipated event was a big success. We welcomed over 100 guests and honored dozens of new women faculty members. The event featured remarks from WFF Chair Paula Kavathas (pictured in photo), Deputy Provost for the Social Sciences & Faculty Development Frances Rosenbluth, and incoming Deputy Provost and Professor of Sociology and in International and Area Studies Julia Adams.
Look through the beautiful photos of this event on our Facebook page.