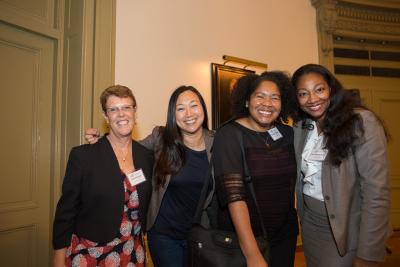 The Women Faculty Forum hosts an annual Fall Opening Reception every September. Join us at the next reception to meet our leadership team, hear about gender at Yale from its leading professors and administrators, and share food and refreshments with faculty of all genders.
This year we welcomed new women faculty members and Yale's new women deans from the schools of Architecture (Deborah Berke), Art (Marta Kuzma), and Nursing (Ann Kurth). The event featured remarks from the new deans, WFF Chair Paula Kavathas, President Peter Salovey, and Lynn Cooley, Dean of the Graduate School of the Arts and Sciences. 
Check out the photos from this event on our Facebook page!