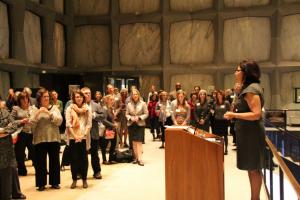 The Yale Women Faculty Forum will host its 14th annual Fall Opening Reception the evening of September 23 at Yale's Beinecke Rare Book and Manuscript Library.  
Last year's event was a big success. We welcomed over 100 guests and honored dozens of new women faculty members. The event featured remarks from WFF Chair Paula Kavathas (pictured in photo), then-Deputy Provost for the Social Sciences & Faculty Development Frances Rosenbluth, and then-incoming Deputy Provost and Professor of Sociology and in International and Area Studies Julia Adams.
Look through the beautiful photos of this event on our Facebook page.