Interdepartmental Mentoring Program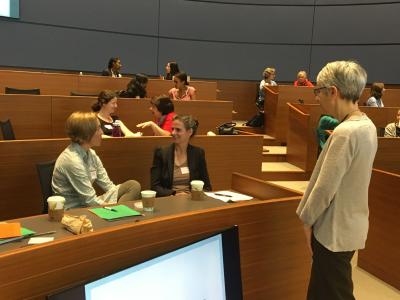 As part of our efforts to support women faculty at Yale, the WFF is again sponsoring a mentorship program piloted by former WFF Chair Priya Natarajan in 2012. This program had a positive impact on a number of junior faculty by providing them with a senior mentor from outside their department who could offer advice, support, and other assistance outside of the context of an evaluative relationship.  In September 2017, WFF hosted a mentoring workshop by Rena Seltzer, academic leadership coach and author of The Coach's Guide for Women Professors. Thereafter, the twenty mentorship pairs met informally throughout the fall. 
This year, WFF Co-Chairs Claire Bowern and Irene Peirano-Garrison  spearheaded another mentoring workshop that happened on December 4, 2019. This workshop had  a "pop-up" format, in which Faculty members signed up to mentor on specific topics, such as Life-Work Balance and Time Management, and mentees were then matched with faculty members who suit their interests. All faculty were welcome to this event, including ladder, non-ladder, and instructional faculty ranks, as well as women and non-binary faculty. 
Where to Find Us
The Yale Women Faculty Forum
205 Whitney Avenue, Suite 301B
New Haven, CT 06511
wff@yale.edu
Subscribe
To manage your subscription to our newsletter, please follow this link.  You will need your NetID.