Wikipedia Editathons
The WFF hosts and sponsors workshops to collaboratively and independently edit Wikipedia pages to reduce gender bias on one of the most widely used sources on the Internet. We provide training for participants and edit pages as a community. 
Our editathons have been  featured in the New Haven Register.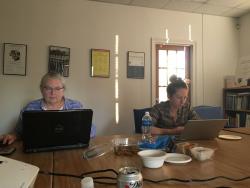 Examples of WFF-sponsored edits include the following Wikipedia entries: 
Yale Sterling Professors: Annabel Patterson
Linguists: Stephanie Fielding, Jane Simpson
Where to Find Us
The Yale Women Faculty Forum
205 Whitney Avenue, Suite 301B
New Haven, CT 06511
wff@yale.edu
Subscribe
To manage your subscription to our newsletter, please follow this link.  You will need your NetID.