Portrait Project
On April 5th, 2016, the WFF unveiled a portrait of the first seven women to receive PhDs from Yale. The portrait, painted by artist Brenda Zlamany, is on permanent display in the nave of the Sterling Memorial Library. 
Iconography is a reflection of power; it also depicts the history of a place and its conception of itself. Images inspire, instruct, and change how we experience an institution. As Yale becomes a more diverse academic community, our iconography must also reflect its diversity. The WFF commissioned this portrait of the first women to early Yale PhDs in part to increase the portraiture of women on campus. Of equal importance was the commemoration of the admission of women to Yale's graduate school in 1892 as well as recognition that Yale was one of the first universities to admit women for doctoral programs. 
While we honor the memory of these first women, we will continue our efforts to diversify iconography of women at Yale.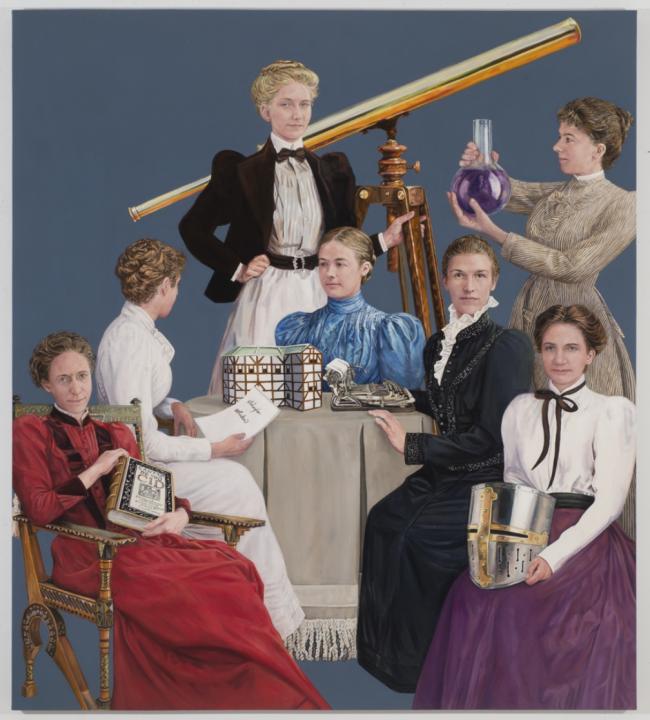 Painting by Brenda Zlamany, 2015
From Left: Cornelia H.B. Rogers (Romance Languages and Literatures), Sara Bulkley Rogers (History), Margaretta Palmer (Mathematics), Mary Augusta Scott (English), Laura Johnson Wylie (English), Charlotte Fitch Roberts (Chemistry), Elizabeth Deering Hanscom (English)
Where to Find Us
The Yale Women Faculty Forum
205 Whitney Avenue, Suite 301B
New Haven, CT 06511
wff@yale.edu
Subscribe
To manage your subscription to our newsletter, please follow this link.  You will need your NetID.