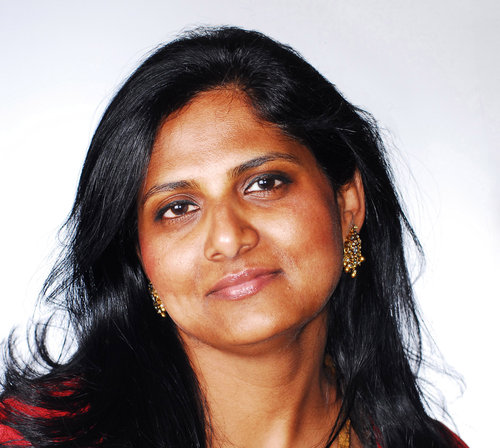 We are proud to announce that Priyamvada Natarajan has been named Chair of the Yale Women Faculty Forum starting Aug. 1, 2011. We are confident that Professor Natarajan, working with WFF's Steering Committee and Council, will build on the WFF's accomplishments of the past ten years to further gender equity and scholarship on women and gender at Yale, nationally and internationally.
Priyamvada Natarajan is a professor in the Departments of Astronomy and Physics at Yale University. Her research is focused on exotica in the universe - dark matter, dark energy and black holes. Professor Natarajan is noted for her key contributions to two of the most challenging problems in cosmology:  mapping the distribution of dark matter and tracing the growth history of black holes. Recipient of numerous awards and prizes including a Radcliffe Fellowship and a Guggenheim Fellowship, she was recently elected Fellow of the American Physical Society. Priya has been active in the work of the Yale Women Faculty Forum since her arrival at Yale. She served on the WFF Steering Committee since 2003 and acted as Co-Chair along with Professor Connie Bagley of the Women Faculty Forum's Sexual Misconduct Working Group from 2009 to 2010. The recommendations of the WFF Report on Sexual Misconduct at Yale have been adopted by the University and have led to the formation of the University Wide Committee on Sexual Misconduct that has been in operation since July 1, 2011. 
We welcome Professor Natarajan to the leadership post of the Yale Women Faculty Forum and look forward to a productive academic year of programming, research, and advocacy.